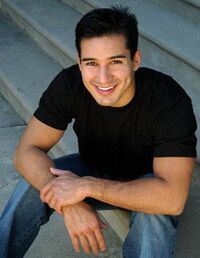 Mario Michael Lopez, Jr. ([ma'ɾio] /ˈmaɪkəl/ [lo'pes]; born October 10, 1973 in San Diego, California) is an American television host and actor who has appeared on several television series, in films, and on Broadway. He is best known for his portrayal of A.C. Slater on Saved By The Bell, who he also portrayed as a regular on Saved by the Bell: The College Years. He has appeared in numerous projects since, including the third season of Dancing with the Stars and as a celebrity guest host for the syndicated entertainment news magazine show Extra. He has also hosted America's Best Dance Crew for MTV, and as of 2012, he hosts the reality show of the U.S. version of the singing competition The X Factor, previously with Khloé Kardashian until 2013.
Ad blocker interference detected!
Wikia is a free-to-use site that makes money from advertising. We have a modified experience for viewers using ad blockers

Wikia is not accessible if you've made further modifications. Remove the custom ad blocker rule(s) and the page will load as expected.