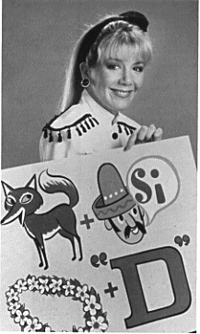 Marjorie Goodson (born October 1, 1962), also known as Marjorie Goodson-Cutt and later Marjorie Goodson-Cagle, is the daughter of the late Mark Goodson. She replaced original model Diana Taylor on Classic Concentration from 1987 to 1991, during which she married associate director Tim Cutt in 1988. Their daughter Hannah was born in 1993 and they have since divorced and Marjorie later remarried. In the years since Classic Concentration, Marjorie became an artist, inspired by her father's art collection. Her last TV appearance to date was on The 2009 Game Show Awards where she accepted an award on behalf of her dad.
Ad blocker interference detected!
Wikia is a free-to-use site that makes money from advertising. We have a modified experience for viewers using ad blockers

Wikia is not accessible if you've made further modifications. Remove the custom ad blocker rule(s) and the page will load as expected.