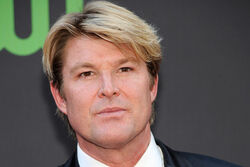 Winsor Harmon (born Winsor Dewey Harmon on November 22, 1963 in Crowley, LA) is an American Actor and former Model. He is best known to soap opera audiences for his portrayal of Thorne Forrester on the CBS soap The Bold and The Beautiful since 1996. He once appeared as a panelist on the late 1990s revival of Match Game.
Native of Crowley, Louisiana. Harmon was transplanted in Rockwall, Texas as a teenager. As one of the country's top rated high school running backs, he was recruited by top colleges across the country. He decided to attend Texas A&M (Agricultural and Mechanical University) on a football scholarship. He is an avid athlete and enjoys all sports including cycling, motorcycles and triathlons. He is a die-hard college and professional football fan.
Before breaking into acting, Winsor previously worked as a model with Ford Models.
He first broke into the world of soap operas when he made his debut on the ABC serial All My Children, playing the character of Del Henry from 1994 to 1996. Later that December, Harmon moved from ABC daytime to CBS daytime when he became the second actor to play the character Thorne Forrester (taking over the role from Jeff Trachta) on The Bold and The Beautiful. Harmon has earned numerous Daytime Emmy nominations for his role of Thorne Forrester (in 2003, 2004, 2005, 2006, and 2007) but has never won. He was also contract cast member on the CBS soap until 2010 and has been under recurring status ever since.
Harmon has married twice. He was first married to Candice Harmon (taking his last name), they married in 1996 and divorced in 1998. His current wife is Deanna Lindstrom, they've been married since 2001 and together they have a son, Winsor Harmon IV (born May 2003). He also has a daughter, Jade, from a previous relationship and is the stepfather of Deanna's daughter, August, from a previous relationship.
He was born on the exact same day that President John F. Kennedy was assassinated.